Cornell Lab of Ornithology

Bowing to the demands of my own powerful curiosity, I have agreed to a give an exclusive interview to myself....
Read More
Yahoo! Games picks up video game based on Macauly Library sounds
Read Post
NYC game developers Large Animal Games have created a downloadable PC video game based on bird sounds and expertise provided...
Read More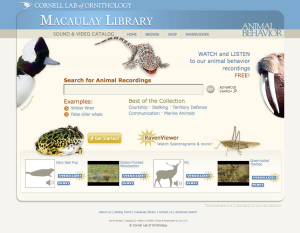 Eat my educational interactives baby! The Cornell University Lab of Ornithology project I designed won second place in Science magazine's...
Read More
Take that Voldemort! Several articles have come out in the Cornell press recently about the Macaulay Library's huge collection of...
Read More
One of the big questions I have about web design for accessibility is, how can I design for one audience...
Read More
I'm liveblogging from the WDIL web conference, conveniently held where I work. I got shanghaied into this. I just wanted...
Read More