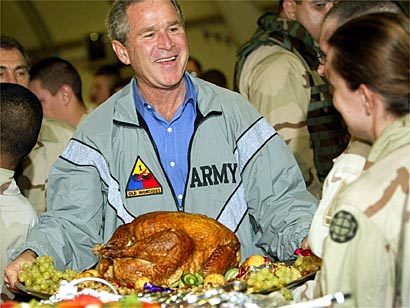 Bob Byler's brother was flying a rescue helicopter in New Orleans last week. He tells stories of tearing the roofs off of houses, and airlifting people out of their submerged houses. However, for several hours he and his fellow emergency helicopter pilots were forced to stop their flights.
The President was in town. There is a well-established (and wise) security procedure that calls for a 50 mile no-fly zone around the President wherever he happens to be. However, during Friday's presidential mission of mercy, this rule was responsible for the delay of life-saving rescue flights.
As the flood waters rose, flight crews were grounded so that Mr. Bush, showing his usual good judgment, could sympathize with the newly second-homeless Trent Lott, survey the damage, and pose for photos in front of hastily-assembled and later absent rescue equipment. I'm certain this was all a great comfort to the people drowning in their attics, waiting for rescue crews that never arrived.
Were their lives, too, a noble sacrifice for the causes of freedom and democracy, or has this administration endangered more Americans for the cause of the photo-op?