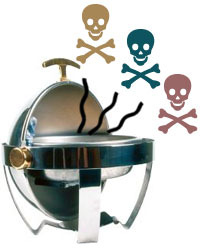 I was leaving work, tired and hungry, when suddenly a uniform-clad minion appeared at my elbow and offered me a snack. This happens occasionally. The Lab rents out its atrium to various groups on campus who bring in the caterers and the cashbar. We're usually not invited, but this day I had decided to exit the building next to the caterer's kitchen.
Big Mistake.
"Have some chicken", she said "It's encrusted with almonds!"
Note to self: when the devil tries to get you, he uses words like "encrusted".
"Are you sure those are just almonds?" I asked, thinking back to dozens of near-death moments brought on by my stupid peanut allergy.
"Oh yes", she said "Toasted almonds!"
At which point my stupid Lizard-brain caused me to reach out and grab one. I took a bite as I walked to my car, thinking "How nice to be offered appetizers at work".
By the time I got to my car I was trying to subtly vomit as well-dressed elderly women passed me on the way to their party. My lips swelled, my throat became a piece of granite. The usual.
I'll spare you the really graphic details (trust me, it gets worse), but suffice it to say the Epipen came through again, along with some medical attention from my handsome EMT boyfriend. Hi guys! Thanks for the life-saving! Again!
All of which leaves me with the growing suspicion that a) I am really stupid for once again eating food of unknown provenance, and b) Cornell Catering really is trying to kill me.