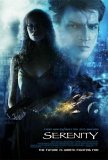 Get thee to Serenity. It required some monumental orchestration, but we got there Saturday and spent the rest of the evening saying things like "Woah" and "Damn".
Go. Go now. Then go again. Then buy the Firefly
dvds in case you haven't already. Ogod this was a cool movie. What are you doing sitting there? Look up film times!