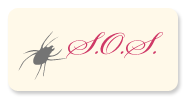 Every year the spiders come. They come in herds. They come alone. Through the drains and under the door, they come.
Spiders. For a week in September, our home is not safe from their octo-legitude. They get together, pick a time and make themselves at home.
This weekend I vacuumed about 35 spiders from various parts of my house. I vacuum every week. This isn't lazy housekeeping. This is an invasion.
I complained to friendErin, but she had no sympathy. "In Arizona," she said, "the local tarantulas migrate. There can be up to three miles of solid tarantula on the road."
Not much fun in a moped.
Wishing you a bipedal day,
-Erica