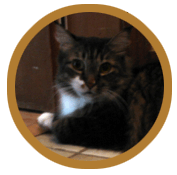 The hot news this weekend is that we got a new kitty. I swear, I just went to the pound to pet the cats. But there she was, a four-year-old fluffball with a penchant for laps. She only has about six teeth, so she looks surprised all of the time. We've been on the Maine Coon rescue list for several months, but nothing had really come up. Then I found the cat of our dreams sitting in the Humane Society three blocks away. We named her Plover.
We brought her home Friday, and I spent the weekend doing cat-integration. There were about five minutes of fur-wrenching, then a truce was called. Now the house is swarming with cats. Two cats can make an impressive swarm.
Last week I met a swarm of digital librarians. My work hosted one of Cornell Library's Digital Preservation Workshops. I helped show off our homegrown catalog and a/v player (which generates spectrograms that you can muck around with!) and our very-exciting-for-library-geeks data entry application. So man, can I just say? Talking to digital librarians? Very exhausting. You guys? Pretty intense. I found myself saying things like "Why yes, the animal behavior table in our data model IS tied to the hierarchy nodes in the taxonomy tree". And then I went home and drank.