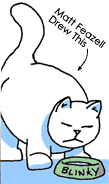 I've started a library at work. My cataloging system is the whiteboard over my desk. My patrons are co-workers and student employees whom I bully into taking books. My material? Comics. I'm on a mission from Groo.
When I was a young Librarian Avenger, I spent many happy years working in the world's largest cataloged collection of comic art, located at Michigan State University. There I met some majorly kickass librarians who were kind enough to allow me to shelve books, type tags, sort through boxes, occasionally catalog (ah, young dorkiness) and induge in a whole lot of secret in-the-stacks comic-reading.
As a result of this intensive training, I can now walk into any fluorescent-lit basement-level industrial-carpeted D&D-riddled comic shop and pick a fight. Ghost Rider vs. Punisher? No problem. Spawn eats them both. First edition copy of Watchmen? Own it. Portrait of myself inked by David Mack? Got it. Personalized CynicalMan convention souvenir by Matt Feazell? On my wall. Every issue of Scott McCloud's Zot, stolen from an ex-boyfriend? Yuppers.
If I had several lives to live simultaneously, I would take out a loan and start a comic shop. I believe that some of the best art and writing of my generation can be found in the pages of comics. Transmetropolitan. Sandman. Optic Nerve. La Perdida. Dykes to Watch Out For. Fun Home. Understanding Comics. Kabuki. Y The Last Man. Zot.
So, lately I've been biking my trade paperbacks up the hill and distributing them. I need someone to talk to about this stuff. It's lonely here at the top.