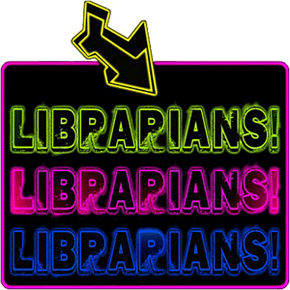 Yeah. I couldn't resist. You know how we've had all of this discussion lately about, er… attractive librarians and the Halloween costumes that celebrate them? So I was thinking, what would REALLY bring those reluctant readers in to the library?
Imagine a neon sign buzzing, zapping and blinking: "Librarians! Librarians! Librarians!" The library lights up outside with lurid pinks and greens. Imagine the untapped audiences of potential patrons! Imagine the circulation statistics! Imagine the improved wages once people start tipping.
Of course, a sign like this might keep away the homeschoolers, but you can't make everyone happy, right?
Right. Hope you enjoy these ever-so-tasteful librarian t-shirts, heat-printed on a black cotton shirt.
Happy Thanksgiving everyone! If you're in town, stop by for spanokopeta and yamfries!